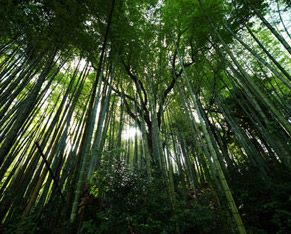 Bamboo Shoot Season, May – June: Bamboo shoots add texture and balance the flavor in many dishes. This is the best time and place to enjoy these culinary delights.

The mountainous areas of Laoquan, Wanxing and Bojia near the Maokong's scenic mountains and waterways are filled with the scent of bamboo – the area regularly produces some 6.67 million kilograms of bamboo shoots.

The Muzha District Farmers' Association holds a Bamboo Shoot Feast each year when all are invited to try the luscious experience of a meal loaded with bamboo shoots.

A typical bamboo shoots feast includes: Noodles with tea oil, shrimp with bamboo shoots, glutinous rice with bamboo shoots, pork chops with bamboo shoots, bamboo shoot salad, bamboo shoots with mushrooms, bamboo shoots with fried garlic, and chicken soup with bamboo shoots.