Zhinan Temple
Address: No. 115, Wanshou Rd., Taipei City
Tel: 886-2-29399920
Zhinan Temple, also known as Xiangong Temple, honors the Master Lu Dungbin. This Taoist master is very deeply adored by the people, and is addressed by the respectful term of Xiangong rather than his name.
Zhinan Temple is located 2 kilometers past National Chengchi University on Monkey Mountain. Zhinan Temple incorporates elements from Confucianism, Taoism, and Chinese Buddhism and is one of the most revered temples in Taiwan. This is an imposing and grand temple that has a great deal of cultural and artistic significance in its magnificent carvings and decorations.
The deities of Zhinan Temple attract a wide range of the faithful to pay homage, especially on festival days. Festivals bring throngs of faithful to burn incense, with men and women packed so tight no one can move.
There is also a Dream Interpretation Room where those with troubled souls can stay the night and seek answers in their dreams.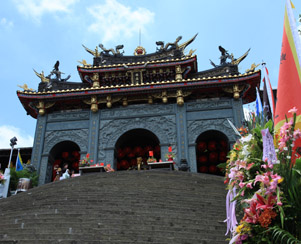 ---
Zhinan Scenic Spot
In coherence with local religious believes, centred around the idea of "three religions and five houses for life guidance" to create five key themes on the grounds. It conveys the unique blend of Taoism, Buddhism and Confucianism found in local culture through the five houses of parents, children, siblings, spouses and fortune and virtue.
The location is easily reached by public transport, visitors can take the Maokong Gondola directly to "Zhinan Temple Station" for an excursion that combines religion, ecology and leisure. This family friendly destination has heaps of surprises to offer, especially during the flower season in spring.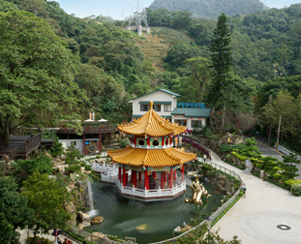 ---
Path from Zhinan Temple to Cihui Temple
Before Wanshou Road was built, worshipers going to the Zhinan Temple had to walk up from the entrance at Lane 33, Sec. 3, Zhinan Road, opposite to the National Chengchi University Experimental Elementary School. This path runs more than 900 meters to the Zhinan Temple and features 23 flights of 1,185 stone steps. Thus the trail presents a good opportunity to train for more rigorous climbers while offering a good temple experience along the way.
There is a stone archway from the Japanese era at the entrance to the stone trail. A sign behind the archway clearly shows where all the area trails are located.
This trail is relatively broad and leads past the old Zhongnan Pavilion and a large stone gate nearby. Each platform on the way features a pair of aging stone lanterns marked with contributors' names and dates that add a feeling of timelessness. There are also a lot of stone pedestals where you can sit and rest for a while. The amount of labor expended here is amazing; it is really an artistic trail of stone carvings.
Unfortunately some of the sections have not been properly maintained and some of the lanterns have fallen off to the side. There are a lot of rewarding sights along this trail such as the Zhinan Temple with its Main Shrine, Lingxiao Shrine and Dacheng Shrine, offering huge structures and a lot of scenery to take in. The view lays out much of the Taipei Basin and the Tamsui River with Guanyin Mountain can be seen in the distance.
---
Monkey Mountain
An extension of the northwest corner of Erge Mountain, Monkey Mountain got its name because its shape resembles a monkey's head, and is also called Ape Mountain. It is one of the most prominent features in the ring of green peaks that line the southeastern side of Taipei Basin. There is a Class 4 trig point on the mountain peak at an elevation of 553 meters.
Monkey Mountain rises up rapidly from the Taipei Basin. At the top is a large stone outcrop that requires climbers to scramble on all fours to reach the peak – one of the explanations of why it is called Monkey Mountain.
A path to Monkey Mountain starts at the parking lot behind the Zhinan Temple and extends up to No. 71, Wanshou Road. The entire route goes through wooded mountains. (Information from the website of Wenshan District Office of Taipei)
---
Chen Yang-Chun Art Gallery
A beautiful and innovative amalgam of religion and culture
At the foot of Zhinan Mountain, there is a quiet corner, tucked away from the hustle and bustle of Taipei City, where visitors can enjoy a glimpse of a peaceful, laid back lifestyle. Now, Zhinan Temple has opened the Chen Yang-Chun Art Gallery here, as a space to display the unique style of atmospheric color washes painted by the renowned watercolor artist Chen Yang-Chun, brining an extra touch of artistic aura to Zhinan Temple, while creating an interesting dialogue between art and religion.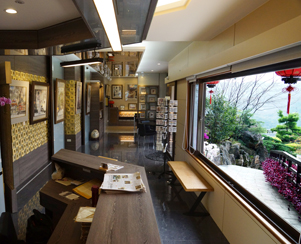 ---