Earthquake response
In the event that an earthquake under magnitude 4 on the Richter Scale occurs during operation hours:
We confirm whether all monitored conditions across the system and pillars are normal, and launch the system to operate at reduced speed (1 m/s) for 5 minutes, after which normal operation resumes if no anomalies are found.
In the event that an earthquake over magnitude 4 (incl.) occurs during operation hours:
Passengers are evacuated and the system is suspended temporarily.
Lightning Pre-warning Equipment
The Maokong Gondola has an "Taiwan Omni-directional Lightning Detection Netword" that will send out warnings before thunderstorm approaches, and can observe the travel direction and scope of thunderstorm accurately. This is helpful for the timing of suspension and resumption of operation. In case lightning strikes an area on the operation route, the system will stop operation immediately. If there is no lightning within 30 minutes, the system will resume operation.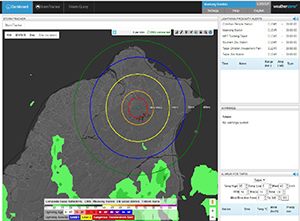 Lightning Rods
All stations and towers of the Maokong Gondola are equipped with proper lightning arrest equipment. Whenever lightning strikes, the lightning arrest equipment will conduct the current into the earth.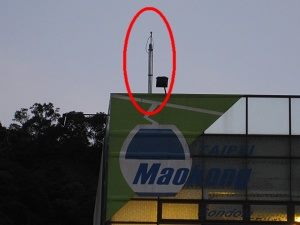 Emergency Stop Button
Installed at the passenger platform and maintenance platform. In case of an emergency, personnel will immediately press this button to halt the system.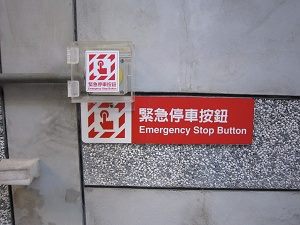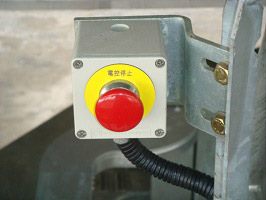 Grip Force Sensors
The grip force sensors are installed at station maintenance platforms. The gondola system is driven by a motor which drives the cables to circulate. The gondola cabins do not have driving force by themselves. On top of each cabin's arm, there is a gripper gripping tightly to the cable and makes the cabin to travel with the cable to stations. When a cabin enters a station, the cabin's gripper will be disengaged from the cable and pass through the grip force sensor to detect its grip force in order to make sure that it is functioning normally and can grip tightly and safely to the cable when the cabin exits the station.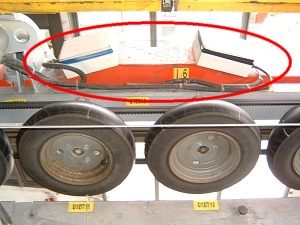 Cable Detector
Cable detectors are installed on the maintenance platform and the tower. In case the cable is dislocated, the detecting system will be triggered and transmit signals through the safety line to the control center to stop the gondola system.