Fire Extinguisher
There is a small fire extinguisher installed under the chair. In case of a fire, a passenger may use it to extinguish the fire.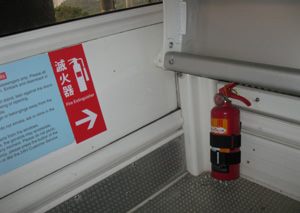 Emergency Telecom
In case of an emergency, passengers can press the knob to contact the control center for help.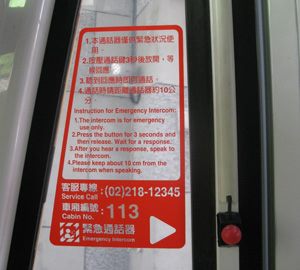 LED lights
At nighttime, the LED lights in the cabin will turn on automatically when there are passengers on board. When there are no passengers in the cabin, the LED lights will automatically turn off to save energy.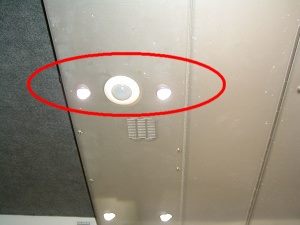 Speaker
In case of an emergency, the control center will broadcast to passengers in the cabins through the broadcast system.
Door-closing Detector
When a cabin's doors are closed properly on its way exiting a station, the door close/open connecting rod on top of the cabin will definitely hit the door closing detector to confirm to the system that the cabin doors are closed properly. If the rod fails to do so, the system will take the cabin as doors not closed and will suspend operation immediately to ensure passengers' safety.